| | |
| --- | --- |
| | |
Guinea Pig Rescue Directory: USA, Canada, UK, Australia
Published: 9/2/2012 | Author:
HappyCavy
| Updated: 7/5/2016
GD Star Rating
loading...

If you think this post deserves under 5 stars,
please let us know why in the comment section! :)
I'm wondering where your humans find new pigs when you are looking for mates?

You are all such a good looking bunch, Dot is great, so any helpful suggestions are most appreciated. I'm happy to drive great distances to find the right pig(s).

– Karen in Euenge, Oregon
Hi, Karen!
Thanks for your wonderful question! And a very happy "hai there" to a fellow citizen of the Pacific Northwest!
Admittedly, it isn't easy finding new guinea pigs to adopt in Oregon since our State is without a major guinea pig shelter or rescue organization that exclusively handles guinea pig adoptions. Because of this, our Humans have had to become quite adept at scouting for adoptable guinea pig. In fact, Human #1 keeps a running list on his computer machine of rescues and shelters that accept and re-home guinea pigs in the Northwest and beyond.
Update 2/27/2015: The Portland Guinea Pig Rescue
Portland, Oregon now has its own guinea pig rescue!
The Portland Guinea Pig Rescue is run by a small group of knowledgeable, dedicated volunteers. We should know. We adopted Winnie from them!
Visit http://pdxguineapigs.org for adoption info, photos of available guinea pigs, and to make a donation if you feel compelled.
Wheek!
After some incessant wheeking on the part of the HappyCavies, Human #1 has agreed to help us put together this post of guinea pig rescue and shelter organizations where you can go to find guinea pigs to adopt.
The Where To Find Guinea Pigs To Adopt List is grouped into the following categories:
I hope this list helps you in your search. Good luck! 😀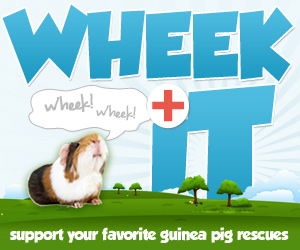 HappyCavy wishes and timothy hay dreams,
~ Hammy xx
Each link is accurate as of the date this post was written. Please leave a comment if you find a broken link, know that a shelter or resource that no longer adopts or rescues guinea pigs, or you have a shelter link to add to this list.
Updated: 3/14/2014
Online Listings USA
– Adopt A Pet Online Search. An online pet adoption database.
– Craigslist. The oldest, and arguably most-used, classified listing website available today. Your local Craiglist message board is a great way to start your search for guinea pigs in need of Forever Homes.
– Guinea Pig Adoption Network. A classified service with guinea pig listings arranged by geographic location. Though not the easiest website to navigate, it boasts a large enough database to warrant further investigation.
– Guinea Pig Finder. This website is an excellent go-to resources to find private adoptions, guinea pigs at rescues and shelters, and listings of guinea pig rescues and shelters around the world. Plus, the directory is carefully managed to exclude intentionally bred guinea pigs.
– PetFinder. Pet Finders hosts a great online database of guinea pigs available for adoption around the world.
– Pet Harbor. Another online pet adoption database.
– Small Mammal Adoption Listings (USA) RescueMe.org offers a free online listing service for guinea pigs and other small mammals. Adoptable animals are arranged according to US state, but you are also able to browse listings for nearly every country.
– Sponsor A Guinea Pig. Guinea pigs around the United States in need of sponsorship and adoption.
Where To Find A Guinea Pig In Oregon & Beyond
The "Where To Find Guinea Pigs To Adopt" List wouldn't be complete without a local resource for fellow Oregonians, so this section was moved almost straight to the top.
Since the unfortunate closing of Oregon's only Portland-based guinea pig rescue (named "Cavy Meadows"), Pacific Northwest residents are without our very own shelter. This leaves a great deal of land, from Tacoma to Medford to Boise, without a dedicated cavy rescue to help house and re-home the guinea pigs of the Great Northwest.
Below you will find a list of shelters and rescues in Oregon, Washington, and Idaho that shelter and re-home guinea pigs.
HappyCavy has verified that each organization listed in this section act to provide shelter and re-homing services for guinea pigs. If you don't see an Oregon shelter listed below, chances are that they do not handle guinea pig adoptions. Please leave a comment for corrections or additions.
Oregon (OR):
– Blue Mountain Humane Society (La Grande)
– Bright Side Animal Center (Redmond) – formerly Humane Society of Redmond
– Columbia Humane Society (St. Helens)
* adopts guinea pig on a "case by case" basis
– Coos Bay Humane Society (Coos Bay)
* only adopts guinea pigs "in extreme circumstances"
– Friends of the Animal Shelter (Ashland)
* not a "strong source for guinea pig rescue"
– Green Hill Humane Society (Eugene)
– Heartland Humane Society (Corvallis)
– Home At Last Humane Society (The Dalles)
– Humane Society of Central Oregon (Bend)
– Humane Society of The Ochocos (Prinville)
– Klamath Animal Shelter (Klamath Falls)
– Oregon Humane Society (Portland Metro)
– The Portland Guinea Pig Rescue (Portland, OR)
– Safe Haven Humane Society (Tangent)
Idaho (ID):
– Kootenai Humane Society (Hayden)
– Idaho Humane Society (Boise, ID)
Washington State (WA):
– Bigfoot Guinea Pig Rescue (Arlington)
– Center Valley Animal Rescue (Quilcene)
– Foggy Creek Cavy Rescue (Auburn)
– Humane Society for Seattle & King County (Seattle)
– Humane Society of Central Washington (Yakima)
– Humane Society of Tacoma and Pierce County (Tacoma)
– Kitsap Humane Society (Silverdale)
– Seattle Animal Shelter (Seattle)
– Spokane Humane Society (Spokane)
Where To Find A Guinea Pig – USA & Canada
Alabama (AL): North Alabama Ferret and Small Animal Rescue (Florence)
Arizona (AZ):
– Piggie Poo Guinea Pig Rescue (Phoenix)
California (CA):
– Cavy House Guinea Pig Rescue (La Honda)
– Cavy Spirit Guinea Pig Rescue (San Francisco Bay Area)
– Cavy World (El Sobrante, CA)
– Coastside Cavy (Pacifica)
– LA Guinea Pig Rescue (Los Angeles)
– North Star Rescue (San Francisco)
– Orange County Cavy Haven (Garden Grove)
– Wee Companions Small Animal Adoption Inc. (San Diego)
– Rabbit & Pocket Pet Adoptions (San Fernando Valley)
Colorado (CO): Cavy Care Inc. (Denver & Aurora)
Connecticut (CT): The Critter Connection (Durham)
Florida (FL):
– Crazy Cavies Guinea Pig Rescue (Coral Springs)
Georgia (GA): None
Hawaii (HI):
– Hawaiian Humane Society (Honolulu)
– Hawaii Island Humane Society (Kailua-Kona)
Idaho (ID): See Oregon and Beyond Section
Illinois (IL): The Critter Corral (Steger)
Indiana (IN):
– Camp Cavy Rescue (Michigan City)
– Rescued Guinea Pigs.com (Sellersburg)
– EARPS Exotic Animal Rescue (Brownsburg)
Kansas (KS): Tanelorn Cavy Rescue (Wichita)
Louisiana (LA): WAIF NOLA (New Orleans)
Maine (ME): Whistle Ridge Guinea Pig Rescue (Auburn)
Maryland (MD):
– Chesapeake Bay Guinea Pig Rescue (Annapolis)
– Small Angels Rescue (Frederick)
Massachusetts (MA): Methuen Adoption Center Nevins Farm (Methuen)
Michigan (MI):
– West Michigan Critter Haven (Grand Rapids Area)
– Rabbit and Small Animal Rescue (Westland, Oak Park, Romulus)
Minnesota (MN):
– Paula's Pigdom Guinea Pig Rescue (Roseville)
– Minnesota Pocket Pet Rescue (Twin Cities)
Mississippi (MS): Mississippi Animal Rescue League (Jackson)
Missouri (MO): Humane Society of Missouri (St. Louis)
Montana (MT): Humane Society of Western Montana (Missoula)
Nebraska (NE): Nebraska Humane Society (Omaha)
Nevada (NV): Nevada SPCA (Las Vegas)
New Hampshire (NH): Animal Rescue League of New Hampshire (Bedford)
New Jersey (NJ):
– Guinea Pig Rescue of Ocean County (Ocean County)
– North Jersey Guinea Pig and Hamster Rescue (Budd Lake)
New York (NY):
– My Hope's In You Small Animal Rescue (Poughkeepsie)
– Oswego County Guinea Pig Rescue (Pennellville)
North Carolina (NC):
– Carolina Pet Rescue (Durham)
Ohio (OH): CJ's Cavy Caves and Guinea Pig Rescue (Uniontown)
Oregon (OR): See Oregon and Beyond Section
Pennsylvania (PA):
– Judge's Park (New Castle)
– Maryland Guinea Pig Rescue (Serving MD, N. Virginia, & Southern PA)
– Wheek Care Guinea Pig Rescue (New Kensington/Pittsburgh Area)
Tennessee (TN): Knoxville Guinea Pig Rescue (Knoxville)
Texas (TX):
– Austin Guinea Pig Rescue (Austin)
– Texas Rustlers Guinea Pig Rescue (Lewisville)
– Precious Critters Pet Rescue (Spring)
Utah (UT):
– Utah Humane Society (Murray)
– Best Friends Animal Society (Kanab)
Vermont (VT): Turtle Hill Farm Animal Sanctuary (Woodstock)
Virginia (VA):
– Cave Spring Piggie Rescue (Roanoke)
– Peninsula Guinea Pig Rescue (Peninsula Region)
Washington State (WA): See Oregon and Beyond Section
Washington, DC: Metropolitan Guinea Pig Rescue
Wisconsin (WI):
– Wisconsin Guinea Pig Rescue
Where To Find A Guinea Pig – UK
– April Lodge Guinea Pig Rescue (Kent, UK)
– Bobtails and Guinea Pig Rescue (Surrey, UK)
– Bramley Cavy Rescue (Bramley, Leeds, UK)
– Crawley Guinea Pig Rescue
– GBH Rescue (Beckenham, Kent, UK)
– Guinea Pig Rescue Centres (All counties, UK)
* a directory of guinea pig shelters, not all links work
– HULA Animal Rescue (Aspley Guise, UK)
– Little Brambles Guinea Pig Rescue (South Devon, UK)
– North East Guinea Pig Rescue (North East, UK)
– Palace Piggie Rescue (Crawley, West Sussex, UK)
– RSPCA West Suffolk (Edmonds, UK)
– Wheek & Squeak Guinea Pig Rescue (Bishops Waltham, Southampton, Hampshire, UK)
Where To Find A Guinea Pig – Australia
– Australian Cavy Sanctuary Website unavailable
– Australian Online Pet Rescue Database
– Cavy Central Guinea Pig Rescue (New South Wales)
– Porsche's Rescue for Small Animals (Sydney)
– Cavy Angel's Guinea Pig Rescue (Gold Coast Elanora)
– Gold Coast Guinea Pig Rescue
– Guinea Pig Australia
* search by state, includes all animals in some states
– Guinea Pig Rescue Shelter of Bundaberg (Bundaberg)
– Small Paws Guinea Pig Rescue (Perth, Western Australia)
Where To Find A Guinea Pig – New Zealand
– Auckland Cavy Care Rescue (Auckland)
Guinea Pig Rescue Directory: USA, Canada, UK, Australia

,
GD Star Rating
loading...
If you think this post deserves under 5 stars,
please let us know why in the comment section! :)
Leave a comment OR Submit an Article Idea
HappyCavy generally does not reply to Facebook comments. If you wish to receive a reply, please click here to leave a comment or contact us.